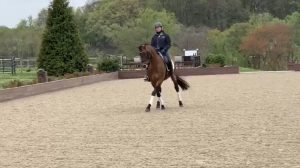 2005 Bay 16.1h Trakehner Stallion
*USEA Stallion Of The Year 2015 & 2016
*Received the 1st Windfall Cup
*High point Trakehner for eventing in Intermediate in 2014 & 2015
*2014 & 2015 Cesar Award
Halimey was bred Germany and in 2007 he was approved in Neumünster as the best Anglo‐Trakehner colt, with a premium title. As a 5yr old, he immediately qualified for the Bundeschampionat of the German Event Horse. He proceeded into the finals, where he placed 10th overall. Again as a 6yr old, he qualified for the same event. In 2009, he was the Champion of his 70 day test in Marbach with top scores for both his dressage and jumping (including cross country) performances. Having recently won the Salgen CIC* in 2011, Halimey Go is a the perfect stud for a potential eventing prospect. An average of 30 percent of his foals have been classified as premium foals.
Halimey's sire, Askar AA, competed in the 1996 Atlanta Olympic Games and his mother, Hamamelis Go, is also the dam of the stallion Harlem Go and half-sister of Pb Go Hamlet.
Performance highlights (8-year-old), in eventing:
Pine Top Thanksgiving Horse Trials – Intermediate – 1st D=29.2, 1st, added 4.4 time xc, final 33.6
Rocking Horse Spring Horse Trials – Preliminary – 1st, D = 26.5 Final 26.5
Rocking Horse Winter Horse Trials II – Preliminary– 1st, D = 24.6, 1st, added 2.4 time xc, final 27.00
In 2013, the oldest get of Halimey were 4-year-olds. Out of his first (smaller) foal crop, he had one son invited to the 2011 Neumuenster stallion approvals but he was not able to attend. That son is now a winning young riding horse under saddle (3-year-old). Also this year, his daughter Despina won the Champion title at the Central Trakehner Mare Inspection in the largest breeding district, Bavaria. She proceeded to win her mare performance test with an overall score of 74%. Also performance tested under saddle was the Halimey daughter Waldliebe, overall score 72.4%.
Halimey's temperament is truly phenomenal in terms of gentleness, willingness to perform, and yet stallion type. Halimey is the perfect sire for a top event horse prospect. This premium-approved Trakehner half-blood stallion is a great choice for sporthorse breeders looking to add athleticism, movement (balance in particular) while still having enough blood to run distances. In addition, Halimey has excellent rideability.

Accomplishments
2nd. Place – Rocking Horse Winter II H.T. Advanced AA (February 2017)
4th. Place – Rocking Horse Winter I H.T. Intermediate OIB (February 2017)
2nd. Place – Ocala Winter I Intermediate OI (January 2017)
5th. Place – Rocking Horse Fall H.T. Intermediate OIB (November 2016)
5th. Place – Plantation Field International CIC and Advanced H.T. CIC2* (September 2016)
7th. Place – Nutrena USEA AEC, Intermediate I-AEC (August 2016)
1st. Place – Event at Rebecca Farm CCI2* (August 2016)
8th. Place – Surefire H.T. Intermediate OI (Jun 2016)
2nd. Place – Virginia CCI/CIC & H.T. Preliminary OP (May 2016)
1st. Place – Rocking Horse Spring H.T. Preliminary OP (Apr 2016)
2nd. Place – Rocking Horse Winter III H.T. Preliminary OP (Mar 2016)
2nd. Place – Richland Park H.T. 2-Star CIC2 (Aug 2015)
1st. Place – Chattahoochee Hills H.T. Intermediate OIB (Jun 2015)
1st. Place – Virginia Horse CIC2*, CCI1* & Horse Trials Intermediate OIA (May 2015)
2nd. Place – Ocala Horse Properties International 3-Day Festival of Eventing Intermediate OI (Apr 2015)
American Trakehner Assoc. Intermediate Champion 2014
1st. Place – Rocking Horse Winter III H.T. Intermediate OIB (Feb 2015)
1st. Place – Ocala Horse Properties Winter II H.T. Intermediate OIB (Feb 2015)
1st. Place – Rocking Horse Fall H.T. Intermediate OI (Nov 2014)
1st. Place – Chattahoochee Hills H.T. Intermediate OI (Aug 2014)
8th. Place – Fair Hill International H.T. Intermediate OIB (Aug 2014)
1st. Place – Chattahoochee Hills H.T. Intermediate OIA (Jul 2014)
6th. Place – Chattahoochee Hills H.T. Intermediate OIB (Jul 2014)
1st. Place – Ocala Horse Properties International 3-Day 2-Star CCI2 (Apr 2014)
2nd. Place – Carolina International CIC and Horse Trial. HT 2-Star CIC2 (Mar 2014)
3rd. Place – Ocala Horse Properties Winter II H.T. Intermediate OIB (Feb 2014)
1st. Place – Rocking Horse Winter I H.T. Intermediate OIB (Jan 2014)
1st. Place – Pine Top Thanksgiving H.T. Intermediate OI (Nov 2013)
6th. Place – Ocala Horse Properties Fall Event. Preliminary OP (Nov 2013)
2nd. Place – Poplar Place Farm September H.T. Preliminary OP (Sep 2013)
8th. Place – Richland Park H.T. Preliminary PHA (Aug 2013)
4th. Place – Fair Hill International H.T. Preliminary OPA (Aug 2013)
3rd. Place – Chattahoochee Hills H.T. Preliminary OPA (Jul 2013)
1st. Place – Rocking Horse Spring H.T. Preliminary OP (Mar 2013)
1st. Place – Rocking Horse Winter II H.T. Preliminary OPB (Feb 2013)
1st. Place – Ocala Horse Properties Winter II H.T. Training OTC (Feb 2013)
Articles and Links
Photo Albums
Videos