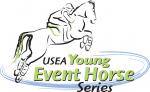 This year will be the first time the Holekamp-Turner Grant will be used. The most qualified horse from the YEH in 2013 will be able to go to France to compete for the US as a 7 year old at Le Lion d'Angers Championships for Young Horses.
Horses bred in the US receive $17,500 towards their travel. Horses that have been imported receive $8000
It Looks like D.A Duras with rider Kelly Prather is at this point first in line.