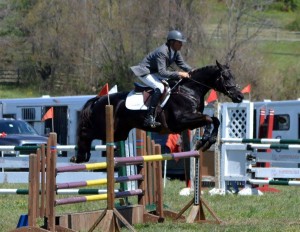 2007 Black Bay 16.1h Trakehner.
Thomas is a true horse with heart. 16.1 is a little small for the 5* level, but he never let it get him down. Finishing his first 5* in 11th place in 2018. Not letting a slight mishap at WEG get him (them)down and (they) came back stronger than ever in 2019 to win 2nd at Kentucky 5* (finishing the national champion) becoming the 5* National Champion and then winning double gold at the PanAmerican Games in August of 2019 with Boyd Martin. Team gold qualified the USA for the Olympics that have been postponed until 2021. Individual gold as the best rider/horse combination in the Americas
Tsetserleg now has his own Instagram page! Visit Tsetserleg!

Accomplishments
11th. Place – Land Rover Kentucky Three Day Event CCI4* (April 2018)
8th. Place – The Fork CIC3* (April 2018)
9th. Place – Red Hills International HT CIC3* (March 2018)
5th. Place – Pine Top Advanced CIC2* (Feb 2018)
3rd. Place – Fair Hill International CCI3* (Oct 2017)
3rd. Place – Stable View Advanced (Sept 2017)
6th. Place – Richland Park HT CIC3* (Aug 2017)
1st. Place – Fair Fill International H.T. Intermediate OIB (August 2017)
6th. Place – Richland Park H.T. CIC3* (August 2017)
7th. Place – Bromont QC CCI3* (June 2017)
2nd. Place – Jersey Fresh International Three Day Event CIC3* (May 2017)
2nd. Place – The Fork Advanced (Apr 2017)
4th. Place – Pine Top Advanced (Feb 2017)
1st. Place – Pine Top Intermediate (Feb 2017)
1st. Place – The Virginia HT Intermediate (Oct 2016)
7th. Place – Stable View Advanced Oktoberfest HT (Oct 2016)
4th. Place – Plantation Field International CIC2* (Sep 2016)
3rd. Place – USEA AEC's Intermediate (Aug 2016)
3rd. Place – Waredaca HT Intermediate (Aug 2016)
2nd. Place – Bromont QC 3-Day 2-Star CCI2 (Jun 2016)
1st. Place – Plantation Field April Horse Trials Intermediate OI (Apr 2016)
1st. Place – Pine Top Spring H.T. Preliminary OPB (Mar 2016)
4th. Place – Sporting Days Farm Horse Trials II Training OTA (Mar 2016)
7th. Place – Richland Park HT 2-Star CIC2 (Aug 2015)
5th. Place – River Glen Summer H.T. Intermediate OI (Aug 2015)
1st. Place – Chattahoochee Hills H.T. Intermediate OIA (Jun 2015)
6th. Place – Virginia Horse CIC2*, CCI1* & Horse Trial sIntermediate OIA (May 2015)
USEA Preliminary Horse of the Year 2014
American Trakehner Assoc. Preliminary Champion 2014
3rd. Place – Pine Top Advanced, CIC**, CIC* Horse HT 2-Star CIC2 (Feb 2015)
3rd. Place – Ocala Horse Properties Fall Event Area 3 Preliminary OPA (Nov 2014)
3rd. Place – Rocking Horse Fall H.T. Preliminary OPA (Nov 2014)
4th. Place – Morven Park Fall H.T. 1-Star CIC1 (Oct 2014)
3rd. Place – Five Points H.T. Preliminary OPA (Sep 2014)
1st. Place – Richland Park H.T. Preliminary OPA (Aug 2014)
3rd. Place – Fair Hill International H.T. Preliminary OPA (Aug 2014)
2nd. Place – Chattahoochee Hills H.T. Preliminary OPA (Jul 2014)
1st. Place – Chattahoochee Hills H.T. Preliminary OPC (Jul 2014)
3rd. Place – Virginia Horse CIC2*, CCI1* & Horse Trials 3-Day 1-Star CCI1 (May 2014)
1st. Place – Poplar Place Farm May H.T. Preliminary OP (May 2014)
2nd. Place – Rocking Horse Spring H.T. Preliminary OP (Mar 2014)
2nd. Place – Pine Top Spring Advanced HT Preliminary OP3 (Feb 2014)
3rd. Place – Rocking Horse Winter I H.T. Preliminary OPB (Jan 2014)
5th. Place – Ocala Horse Properties Fall Event H.T. Preliminary OP (Nov 2013)
Articles and Links
Photo Albums
Videos